Comprehensive Castor Oil Derivatives Report
The Only Available Comprehensive Report on Castor Oil & its Derivatives
Wish to Explore Castor Oil Derivatives Industry?
Read the Only Comprehensive Expert Guide on Castor Oil Derivatives
Castor oil is one of the most versatile plant oils. It is now becoming one of the most sought after plant oils, owing to its rich properties and a variety of end uses. The various grades of castor oil and its derivatives are being used by many industries from pharmaceuticals to lubricants. The global market for generation II and III castor oil derivatives is estimated at US$ 800 million and US$ 400 million respectively.
As new emerging sectors like biopolymers and cosmetics have started using castor oil derivatives in their products, the potential for these derivatives to play a much larger role in world economy could increase dramatically.
While the importance of castor oil derivatives has increased recently, there is no comprehensive report that addresses all important aspects of castor oil derivatives. CastorOil.in, the premier online resource for all information about castor, has hence brought out this report to assist all the professionals in the industry.
Who will benefit from this report?
This report will be invaluable to entrepreneurs and industry professionals venturing into castor oil derivatives and keen on understanding the market structure and potential before they make their investment decisions.
What is the objective of the report?
The goal of the Comprehensive Castor Oil Derivatives Report is to present a comprehensive status report on the current and future potential of the castor oil derivatives industry. Written by professionals who have been observing the industry for many years and who interact continuously with all the key industry players, the report will assist you to clearly understand the potential and prospect of the industry.
Answers the most important questions that entrepreneurs, investors and businesses have regarding castor oil derivatives
Provides critical inputs on the key derivatives and their market potential
Provides useful details on the production methods of the various derivatives.
Lists details and profiles of the prominent companies making key castor oil derivatives
Developed by CastorOil.in, the definitive and most referenced resource for the global castor oil industry
What are the key questions answered in the report?
This insightful report provides precise inputs for the following questions
What are the various derivatives of castor oil and their applications?
What is the current and future market potential for castor oil derivatives?
Which of the castor oil derivatives are likely to have significant growth in the short term?
Which are the emerging castor oil derivatives to look out for the medium term?
What is the brief manufacturing process of key castor oil grades and derivatives?
What are the main end use markets for castor oil derivatives and what are the characteristics of these markets?
Which are the prominent companies worldwide for castor oil derivatives?
What is the status of castor oil use in high growth markets such as biopolymers and cosmetics?
What are the key growth challenges faced by prominent castor oil derivatives?
What are the prominent ventures and partnerships that happened in recent years?
Castor oil derivatives dealt with in this report
 Hydrogenated Castor Oil (HCO)
12 Hydroxy Stearic Acid (12 HSA)
 Methyl 12 HSA (Hydroxy Stearate Acid)
Blown Castor Oil
COLM (Urethane Grade)
Commercial Grade
BP
DAB-10
Deodorized
European Pharmacopia
Extra Pale Grade
Pale Pressed Grade (PPG)
First Pressed Degummed
Special Grade (First Special Grade (FSG)

United States Pharmacopia (USP)
Industrial Castor Oil
Dehydrated Castor Oil (DCO)
Ethoxylated Castor Oil
Ricinoleic Acid
Methyl Ricinoleate
Sebacic Acid
2-Octanol

C-7

Heptanoic Acid
Heptaldehyde
Heptyl Alcohol (Heptanol)

C 11

Undecylenic Acid
Undecanoic Acid
Undecylenic Aldehyde
Undecylenic Alcohol
Calcium Undecylenate
Zinc Undecylenate
Allyl Undecylenate
Sodium Undecylenate
Methyl Undecylenate
Ethyl Undecylenate

C 18
Existing markets and applications for castor oil derivatives
| | |
| --- | --- |
| Agriculture Organic Fertilizers | Plastics and Rubber Polyamide 11 (Nylon 11), Plastic Films, Adhesives, Coupling Agents, Polyols, Synthetic Resins, Plasticizers |
| Food Surfactants, Viscosity Reducing Additives, Flavourings, Food Packaging | Cosmetics and Perfumeries Perfumery Products, Lipsticks, Hair Tonics, Shampoos, Polishes, Emulsifiers, Deodorants, Antidandruff |
| Paper Flypapers, Defoamer, Water Proofing Additive | Pharmaceuticals Antihelmintic, Cathartic, Emollient, Emulsifiers |
| Electronics and Telecommunications Polymers for Electronics and Telecommunications, Polyurethanes, Insulation Materials | Paints, Inks and Additives Inks, Plasticizer for Coatings, Varnishes, Lacquers, Paint Strippers, Adhesive Removers, Wetting and Dispersing Additives |
| Textile Chemicals Textile Finishing Materials, Dyeing Aids, Synthetic Detergents, Surfactants, Pigment Wetting Agents | Lubricants Hydraulic Fluids, Heavy Duty Automotive Greases, Fuel Additives, Corrosion Inhibitors, Lubricating Grease, Aircraft Lubricants, Jet Engine Lubricants, Racing Car Lubricants |
Emerging market segments and new uses
| | |
| --- | --- |
| Segment | Details |
| Biopolymers | Diverse end uses for PA and PUR inAuto componentsApparelElectronics |
| Personal Care | Natural exfoliation (HCO beads) as alternatives to plastic micro particles (PE and PP)Premium deodorants, lipsticks, sunscreen lotions |
| Health & Pharma | Neuro-protective ingredients |
| Others | Flame retardantsTextile accessoriesSub-components in solar panels and wind turbinesOptics |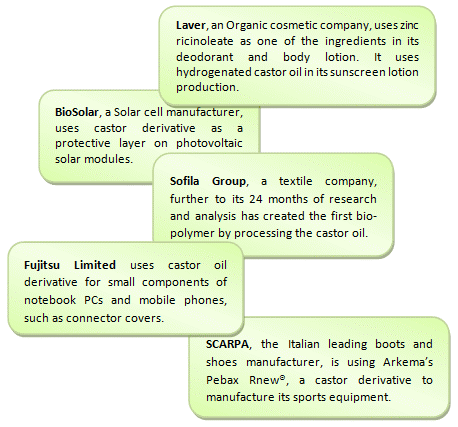 What is exclusive about this report?
This is the only comprehensive report available for castor oil derivatives anywhere in the world.
Using its unique position as a boutique research firm in castor oil, and also given the fact that we run the web's most popular web portal for castor oil ( www.castoroil.in), the CastorOil.in team has been interacting with a number of castor oil industry participants for many years now. This list includes manufacturers and processors, castor bean cultivators, castor oil and castor oil derivative chemicals users, economists, machinery suppliers and trade bodies. Using this collective intelligence and inputs gained over these years, CastorOil.in has prepared this comprehensive report.
List of Contents
Chapter 1 - Castor Oil Derivatives - Introduction & Production
1.1 Production Process for Key Castor Oil Grades and Derivatives

1.1.1 Castor Oil Grades and Derivatives Production - Basics
1.1.2 Castor Oil Derivatives Production – Processes, Reactions & Stages
1.1.3 Properties - Chemical, Physical Properties and Specifications of Castor Oil Grades and Derivatives
Chapter 2 - Castor Oil Derivatives Market
Insights on current and future demand/supply estimates, consumption and import/export of various castor oil derivatives
2.1 The Global Castor Oil Derivatives Market

2.1.1 Overall Growth Trends in the Global Castor Oil Derivatives Market
2.1.2 Growth Trends in Terms of:

2.1.2.1 Geography
2.1.2.2 Derivative
2.1.2.3 End Uses

2.2 Supply and Demand of Castor Oil Derivatives

2.2.1 Castor Oil Derivatives Supply Trends
2.2.2 Castor Oil Derivatives Demand Trends
2.2.3 Short & Medium Term Demand-Supply Analysis in Castor Oil Derivatives

2.3 Indian Castor Oil Derivatives Industry
India being a near-monopoly for the supply of castor oil, we have a special section dedicated to the Indian castor oil industry in the context of castor oil derivatives.
2.3.1 Indian Castor Oil Derivatives Production – Historical & Current Scenario
2.3.2 Indian Castor Oil Derivatives Exports – Historical & Current Scenario
2.3.3 Indian Castor Oil Derivatives Imports
2.3.4 Emerging Trends in India for Production of New Castor Oil Derivatives
Chapter 3 - End Uses for Castor Oil Derivatives
3.1 Current End Uses for Castor Oil and Derivatives

3.1.1 End Uses - By Castor Oil Grade / Derivative
3.1.2 Castor Oil & Castor Oil Derivatives Uses - By Industry

3.2 Future Possible End Uses and End User Industries for Castor Oil and Derivatives

3.2.1 Biopolymers and Castor Oil
3.2.2 Cosmetics and Castor Oil
3.2.3 Other Emerging End Uses
Chapter 4 - Emerging Trends in Applications, Partnerships & Research
4.1 Emerging Trends in End Uses
4.2 Business Partnerships in Castor Oil Derivatives
4.3 Past & Emerging Research in Castor Oil Derivatives
Chapter 5 - Prominent Castor Oil Derivatives Producers
5.1 Producers in Asia
5.2 Producers in Europe
5.3 Producers in North America
5.4 Other Producers and Suppliers
Interested in Purchasing Castor Oil Derivatives Report?
Send a note to A[email protected]