This is very interesting. I'd like to share this!
talk to us
If you are interested in purchasing the report or getting our help, talk to us now.
Muthukrishnan
Email : [email protected]

Are you a Student/ Researcher/ Not for Profit? You are eligible for a 50% discount on this report.

Write to Muthukrishnan – [email protected]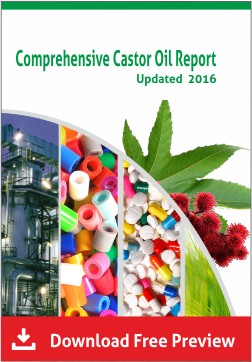 Purchase Castor Oil Report in May 2015
Save a Bundle! And Get Complimentary Reports
Offer valid only until May 31 2015
CastorOil.in publishes the world's only industry-standard market research report and expert guide – the Comprehensive Castor Oil Report. More about this report from here
Published since 2008, it has benefitted over 1000 companies & organizations around the world so far. The latest report was updated in Mar 2015 and comprises latest insights and market data.
In May, we are providing an exciting offer for this industry leading expert market reports
$200 lower price. Comprehensive Castor Oil Report – Original price - US$ 850. Price Until May 31 - $650.
Three Complimentary Castor Industry Reports:

A Concise Guide on Emerging Opportunities in Castor Oil Derivatives
Insights on India's Current Domination and Future Trends of Its Contribution to the Global Castor Industry
A Unique Guide on Production and Uses of Key Castor Oil Oleochemicals
If you purchase on or before May 31, you get $200 off and 3 additional expert guides at no cost.
If you are interested, send a note to Muthukrishnan Nagasubramanian – [email protected] , or call mobile: +91-9952910083 and we will immediately assist in your purchase.